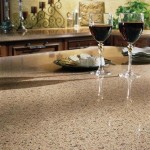 When choosing a counter you have to take in consideration some very important points. The material and the edge of the counter will contribute tremendously to the overall look and feel of your kitchen.
First let's talk material.
Silestone
Silestone is made out of a composite of 94% quartz material with dyes and resins and is basically engineered stone. Silestone's countertops are available in over 60 colors and different finishes
10-20% more expensive
May lend more elegant look by offering endless color choices, the quartz in silestone sparkles creating a glimmer of radiance
Appearance of granite. Can be used in kitchens, bathrooms, bars, on floors and on walls
It is non-porous so it is impervious to stains therefore sealing is not required
It is extremely hard, less likely to chip
Can be cut to have square or beveled edges
cutting on the surface may cause marks
heat resistant, but don't recommend putting hot pots on it
No need to select a slab – since it's manufactured there's uniformity in color
Granite:
Pros:
Natural product. Quarried, cut and polished before entering your home
Comes in many different colors and patterns – it never gets boring providing endless variations in colors and shades.
Sometimes granite tends to be less expensive than manufactured stone
heat, scratch and dent resistent
Cons:
Very difficult to choose granite for a large project due to variations in color
Needs sealer for stain resistance
Visible seams
Cannot be molded
DuPont™ Corian®:
Simulate marble stone look
Pricing similar to Silestone and Granite
Constructed using 100% resin. Colors are added when the plastic is heated and processed
Comes in about 100 different colors
Unlike granite and silestone, comes in solid white, still preferred by many
Seamless in appearance
Versatility in shapes and forms. Can have molded built-in sinks
According to manufacturer – stain resistant – no sealing required
Not heat resistance, do not place hot pots or pans on corian
Can be dented and scratched by knifes
Easy repair unlike granite
Granite, Corian and Silestone are all wonderful choices for your countertop. When deciding it all comes down to color, pattern and perceived value.
And now the edges. Try not to get lost in all those bullnose terms. Basically, modern kitchens call for a clean simple edge and traditional require more complicated profile. Rounded edge is also a safer choice when you have kids running around in your kitchen.